The Society for Francophone Postcolonial Studies is pleased to acknowledge the continued generous support of Liverpool University Press for this year's annual conference.
LUP publishes a wide range of cutting-edge research in Francophone studies. The below titles and series will be of particular interest to SFPS members.
New in French and Francophone Studies books
Upcoming in our Francophone Postcolonial Studies series: Colonial Continuities and Decoloniality in the French-Speaking World
Francophone Postcolonial Studies publishes research that will help to set new research agendas across the entire field.
Colonial Continuities and Decoloniality in the French-Speaking World edited by Sarah Arens, Nicola Frith, Jonathan Lewis, and Rebekah Vince is upcoming in this series. This volume pays tribute to Professor Kate Marsh (1974–2019), featuring essays that reflect her vast scholarship, from her focus on French colonialism in India, colonial nostalgia and imperial rivalries, all the way through to her final project on anti-colonial activism and its policing in France's cities. Available in December here >
New in French and Francophone Studies Journals
Contemporary French Civilization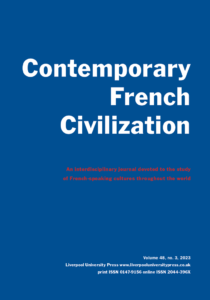 Editor-in-Chief Denis M. Provencher, North Carolina State University
Contemporary French Civilization, a journal devoted to all aspects of civilization and cultural studies in France and the Francophone world.
The latest issue, Volume 48.3 includes articles on documentary films as counter-memory; a social media study on the reception of non-binary pronouns; the impact of the internet and new technologies on the current position of French language in Morocco; and how a famously semi-clandestine group, the College of 'Pataphysics, became progressively more politicized in the 1960s and 1970s. The issue also includes a Review Essay exploring the November 2015 Islamist terrorist attacks in Paris and Emmanuel Carrère's book, V13, and concludes with reviews of the latest books in the field.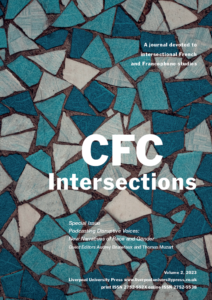 Editor-in-Chief Denis M. Provencher, North Carolina State University
CFC Intersections is an exciting new companion journal which builds on the success of highly regarded Contemporary French Civilization (CFC). It focuses on intersectionality and how it has come to inform the lives of BIPOC (Black, Indigenous, and People of Colour), the working class, LGBTQ communities, people with disabilities, and those in other marginalised and minoritized groups, including among others Africana and Black studies, anthropology, cultural studies as well as gender, sexuality and queer studies, literary studies, sociology, and social work.
The latest issue, Volume 2.1 is a Special Issue exploring the potential of podcasts to carry words and voices of minority subjects and groups that contribute to the fields of critical race theory, feminism, and intersectional studies in contemporary France. Guest edited by Audrey Brunetaux and Thomas Muzart, contributions explore the significance and relevance of podcasts in today's mediascape.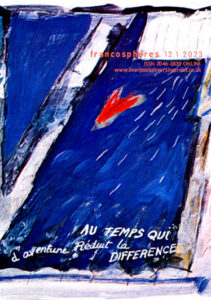 Edited by Rebekah Vince
An Open Access journal that is essential reading for those working in and researching French language and culture, and the Francophone postcolonial presence.
Vol 12.1 is a special issue bringing together several scholars probing literary engagements with epilepsy, Alzheimer's disease, Hodgkin's lymphoma, and Ebola in order to ask how the interaction of the medical with the literary generates articulations and understandings of disease in different cultural settings.