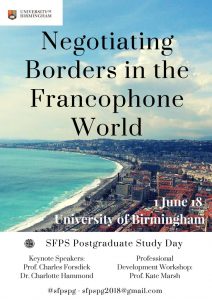 'Negotiating Borders in the Francophone World'
University of Birmingham
Friday 1st June 2018
Society for Francophone Postcolonial Studies: Postgraduate Study Day
Keynote Speakers
Prof. Charles Forsdick (University of Liverpool)
Dr. Charlotte Hammond (Cardiff University)
Professional Development Workshop: Prof. Kate Marsh (University of Liverpool)
Borders come in many different forms, both visible and otherwise. Whereas hard borders demarcate specific geographical territories and are inscribed in law, soft borders can be thought of as the constructed socio-cultural barriers that stand between 'us' and 'them'. Talk of borders in both senses dominates the international news agenda, perhaps now more so than ever. Traditionally concerned with geo-political rivalries and colonial expansion, today such discourse is shaped by two competing phenomena: the breaking down of borders brought on by globalisation, on the one hand, and their restoration driven by processes of securitisation in response to mass migration and the perceived threat posed by global terrorism, on the other.
Over the course of the Study Day, we explored the many borders that currently criss-cross and structure the postcolonial francophone world, as well as those which have done so historically. Intended to showcase work undertaken by postgraduate students, we invited participants to interpret the conference theme and contribute to the notion of borders in the broadest possible terms.
Our aim for this event was to facilitate debate by providing a friendly and supportive environment in which new researchers within the field of francophone postcolonial studies can share and discuss their work.
For more information see: http://sfpspgstudyday.wordpress.com/
Twitter: https://twitter.com/sfpspg2018
Organising Committee: Ally Lee (University of Warwick), Bethany Mason (University of Birmingham), Abdelbaqi Ghorab (Lancaster University).